Spotlight on Reception - Spring Term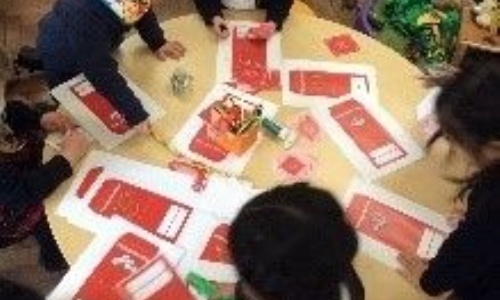 Welcome to the Reception Team: Miss Pearce & Mrs McMahon in Beatrix Potter Class, Mrs Curl & Miss Grimes in Hungry Caterpillar Class and Miss Thompstone & Mrs Roberts in Winnie The Pooh Class. We also have Mrs Kent, Ms Fitzpatrick and Mrs Bassey throughout the week too.
What is Reception life like?
Well, it all begins with Early Morning Work – every morning the children come to school and complete challenges as we get settled into the daily routine. The children have become very independent in organising their own belongings and working independently on the carpet. Starting the day with a Maths Meeting where we find out the day of the week and checking the weather – we love this song and always hope for sunshine!
Then we are straight into Phonics where we learn our daily sounds and practise our reading skills, segmenting, blending and sight reading our tricky words.
Next, it's time for our group reading where we get to enjoy a new book each week that we can read all by ourselves! The grown-ups are really impressed with how quickly the children are progressing, building great independence with reading and turn taking, listening to others read and following the words in their own books!
Now it is time for some busy time! During the day the children access lots of different activities in and outside of the classroom. We play games, read stories, create in the art area, explore maths, relax in the thinking den, role play in the home corner, café, vets, or baby clinic and make up stories in the small world area. We often use puppets to retell stories we are learning about as well as going on hunts to investigate the world around us.
One of the things we like most in Reception is the exploration table. Where we explore water, sand, mini beats, floating and sinking, playdough, magnets and much much more. Construction is fun too where we build tall towers, invent cars or build fireworks or robot heads with the straws.
After some free flow exploring, we are ready for a snack and a story! We love to add in voices and expression – we practise this in our weekly prosody sessions. We love to put our detective eyes on and look for tricky words and digraphs and now trigraphs in the words we are reading.
Then we are off to explore again while the adults help us in our catch-up groups. This is where we can revisit taught sessions to help everyone remember all that there is to remember! We practise our name writing and play flash card recognition games with our sounds and numbers. One of our favourite catch ups is when we play tricky word splat! That's really fun.
Now it's time for maths! We have maths carpet session where we explore RekenRek learning to spot numbers quickly by using our moto 'don't count, say the amount' this is subitising - a really tricky concept that the children are mastering.
Then we investigate a maths topic such as adding or subtracting, doubling, shape and quantity. The children use lots of resources to explore these themes practically and then get to apply these skills within ICT games, workbook tasks and practical activities.
Finally, after all this hard work we are off to lunch! Where most of us have a delicious hot meal ready for some outside play – sometimes in the big playground where we love to run, sometimes in the Year 1 Quad (where we try and climb the mountaineers climbing wall!) and sometimes back in our environment to explore the outside themed activities where the Early Years Practitioners support the children in their exploration.
After some break time we are back inside for our topic carpet session, this will be based on many different themes and will cover many aspects of the Early Years Framework. We create mind maps of information we have gathered; we watch videos and presentations about our topic to gain knowledge to apply when working on the provision in our classes. Recently we have enjoyed learning about different celebrations, the Hungry Caterpillar story, Chinese New Year and now we are enjoying the traditional tale of the Gingerbread Man. At this time of the day we are building our confidence in working independently following instructions and completing tasks as a whole class. The children are really building stamina with this.
Then it's time for some group work where the adults work with the children to develop skills and knowledge around our themes, we dig a little deeper here and extend all children to enable them to reach their personal goals. We practise turn taking, writing skills, following instructions and completing personal tasks to meet our targets. Children also have the opportunity to explore in all 3 reception classrooms at this point, accessing even more exciting opportunities and working with a range of adults.
After, it's back to the carpet for a small review of the learning of the day, wellbeing check ins and a snack!
Some of our busy days also include PE sessions and a focus on Music and ICT within the timetable too!
Back to busy time and completing the afternoon challenges before we get ready for home, learning to be independent with gathering our belongings and packing our bags. This can be tricky some days with letters and work to include too!
Then its Talk for Stories where we explore the features of different stories (including a range of texts) and the exciting vocabulary we can pinch for our own story telling. We love to predict what's happening next! Then it's song time with our daily nursery rhyme and a review of the busy day!
And … off we go home!