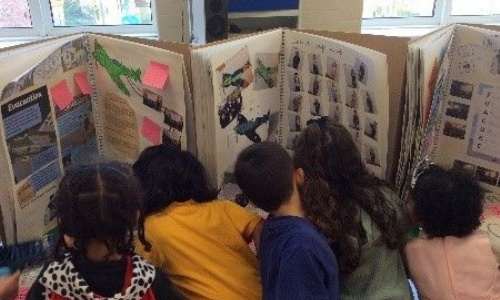 Humanities Week - EYFS
Published 04/12/23, by Adam Gilbert
A Century of History - Humanities Week
What a week it's been! Humanities week returned with a bang, diving into 'A 100 Years of History' with a rich focus on working historically.
Reception's topic was 'The Royal Family' specifically looking at Queen Elizabeth II and King Charles III. We launched our week by being historians looking at sources to guess our theme for the week. We then looked at images of Queen Elizabeth II and King Charles III and compared them. Our next challenging task was to create a timeline of events. During busy time, we have been drawing portraits of Kings and Queens, creating crowns, building models of Buckingham Palace, and getting ready for our Royal Ball.
On Wednesday, we were very lucky to have the opportunity to join a drama workshop. We met Phileas Fogg who took us on an adventure around the world in just 30 minutes. We learnt how to say 'hello' in different languages and had a special mission to find the boomerang in Australia!
On Friday, we showcased all of our wonderful to the rest of the school in the top hall. We then walked round to look at the other year group and found out what they had be learning about too!
Nursery were super busy during Humanities week learning all about Queen Elizabeth II and King Charles III. We found out lots of information about them including about their childhoods, their families , their hobbies and the different important jobs that they do! We spent time looking at two photographs - one of the Queens Coronation and one of the Kings Coronation. We spent time talking about what a Coronation is as well as the similarities and differences we could spot between the photos. We enjoyed drawing pictures of the King and Queen and sharing our knowledge with the adults around us. We have also been super busy using our great cutting skills to create our own crowns. Phew, what a busy week! 🙂
Each year group's dedication to being exceptional historians was truly remarkable, examining primary and secondary sources with genuine enthusiasm and gaining plenty of knowledge. The week culminated in 'dress up as a historical figure' day and exposition, where all the children got to see what each year group had been learning about.
Read More