Wimbledon BookFest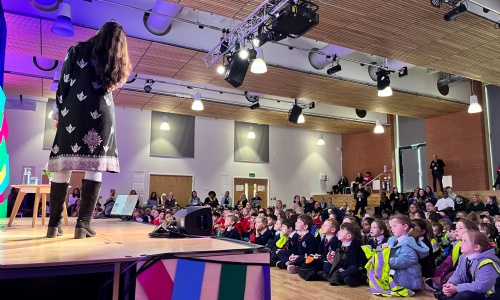 Years 1-2 visited Wimbledon BookFest Festival in October 2023. Aragon has now been attending the festival since 2019 and each year gets better and better!
Year 1 joined award winning poet Kate Wakeling for a joyful, interactive performance of her beautifully crafted new poetry collection. They heard (probably) the fastest poem in the world, solved some brain tickling minibeast riddles, bob like a robin and got ready to hop aboard the friendliest steam train in town. Bursting with fun and imagination, this playful session left Year 1 feeling inspired.
Year 2 joined Nikita Gill, a British-Indian poet, playwright, writer and illustrator at this magical event. They journied back in time with author and poet Nikita Gill for an incredible event and discovered the ancient Indian animal fables of the Panchatantra, which have been told and retold for thousands of years! They met mighty elephants and courageous mice, cunning crocodiles and clever monkeys, talkative tortoises and little lapwing birds – and each one imparts a different message that inspired the children in different ways! Celebrating friendship, cleverness, love and wisdom, this was not an event to be missed!