Year 4 Spotlight - Summer Term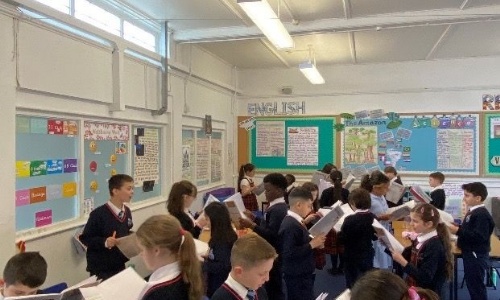 Summer Term here we come! In Year 4, we're looking forward to an amazing last term together. So far we've had a very busy first two weeks back. Last week, we started our new story in English called 'Tar Beach' and have been writing playscripts for the very first time. Through this book, we have learnt about the 'George Washington Bridge' and all its marvellous features, which will help us design and pitch our very own bridges next week in a 'Dragons Den' themed event.

In Maths, we have been learning about converting between different lengths, mass and volume (including decimals). Now, we are moving onto area and perimeter. We've already really enjoyed practically calculating the area of our classroom tables using square sheets of paper.

This half-term we are also learning all about seasonal food in D.T lessons. We were incredibly excited this week to create our own versions of 'Eton Mess'. Over the course of Lesson 2, we developed our cutting and whisking skills. Most children rated the dessert a solid 10/10 after some taste testing! Some children were so engaged in their food technology topic that they even took the recipes home to have another go! Please do upload any pictures to seesaw if you do, we'd love to see them; the Y4 teachers were absolutely thrilled to see the pupils so enthused in their learning!

In Science, our little scientists have been learning about animals including humans. So far, we've learnt about the different types of teeth and even started to create our own teeth model using clay and card.

Lastly, it was so lovely to see so many of the Y4 parents and carers for our Year 4 Coffee Morning last week – we hope you enjoyed your visit. Please take a look at the pictures attached to see all of our incredible Year 4 learning in action...