Year 4 - Ufton Court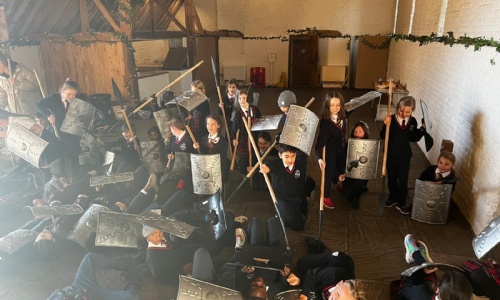 At the end of last term, Year 4 went on an incredible trip to Ufton Court, a Roman village in Reading.
We had a fun-filled day of activities immersing ourselves into being Romans for the day! While barking commands, marching, sieving through artefacts, the students were able to understand what it was like to be a legionary during the Roman times.
Roman Artefacts: this session we explored Roman artefacts and decided on the correct use. We bartered between oil bottles being a bedpan and a trophy and oil applicators being horseshoe cleaners or livestock feeders. The students were able to use their reasoning for siding with each use and basing their decisions through their knowledge of Roman Britain.
Roman Skills: Here, students were able to weave fences, make their own yarn and learn how to create fire. Students worked collaboratively in each task, working as a well-oiled Legion!
Roman Manoeuvres: Students learned how to work together to create a strong unified Legion. We learned how to effectively use a pilum and scutum, making Year 4 a force to be reckoned with! Learning many Roman battle manoeuvres, I'm sure no one would want to challenge us!
Roman Games: Students learned many games that Roman soldiers used to pass the time. Of course, Roman time football was an absolute success. Students used an adaptation of noughts and crosses alongside Roman Jacks to fully immerse themselves into the life of a Roman.
Having spoken to many students across the year group, the trip was a raging success, and we are incredibly thankful to Ufton Court for facilitating an amazing day for Aragon! Year 4 showed just how great they are and we are welcomed back next year!