Year 5 - Museum(s) Trip!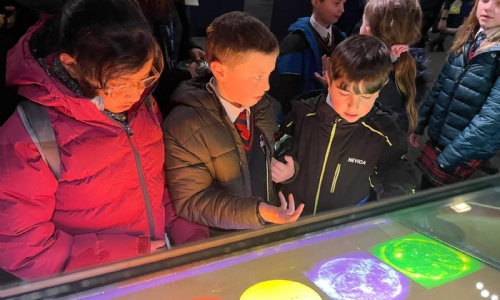 Year 5 had a wonderful time on Friday 27th January on their trip to not one, but TWO of London's best museums, the Science Museum and the Natural History Museum.
Our first stop was the Science museum. We explored the wonders of space ahead of our new science unit next half term and learnt more about America's race to put a human on the Moon. We then explored the key events of creating modern machinery, visiting the James Watt section of the museum to get up close to one of the first steam trains ever built!
After a quick pit stop for lunch, we were off again to the Natural History Museum. We first embarked on a journey to the centre of the Earth! We were able to use our knowledge from our geography lessons to correctly identify the different layers that make up our Earth's structure before learning about what happens during an Earthquake! We even took a trip through the Earthquake simulator to experience the ground moving beneath our feet (don't worry, we held on tight!). After we caught our breath, we entered the creepy crawlies exhibition, which caused quite a stir for some of our students (and teachers) before going to visit our good friend Dippy the dinosaur in the dinosaur exhibit.
Year 5 not only represented the school impeccably at both museums, but also on their journey to and from school on public transport. We had many members of the public come up to us to say just how fabulously well behaved and polite our students were, and we couldn't agree more!