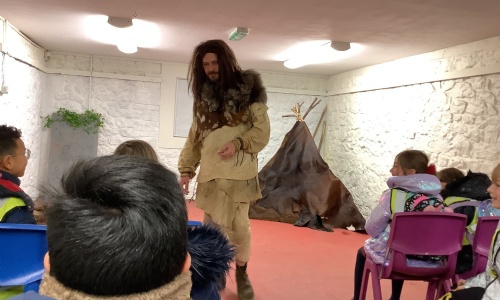 Y3 - Stone Age Day
Published 04/12/23, by Adam Gilbert
Last Monday, our Year 3 students embarked on an incredible journey back in time as they visited the Kent Life Centre for a captivating Stone Age theme day.
Following their captivating History topic on the Stone Age, Bronze Age and Iron Age, the young historians delved deep into the past through immersive workshops, including:
- Beliefs and Burials
- Meeting a Tribe Member
- From Hunters to Farmers
- Stone Age Weapons
- Trading in the Stone Age
- Grinding Grain
The day was filled with excitement as the children delved into the ways of our ancient ancestors, and everyone had an absolutely fantastic time.
They soaked up knowledge like sponges and showcased impeccable behaviour throughout the day, making us immensely proud.
A huge thank you to the Kent Life Centre for providing our students with such an enriching and enjoyable experience!
#StoneAge #Education #SchoolTrip #HistoryLesson #KentLifeCentre #LearningThroughExperience
Read More