Foundations for Phonics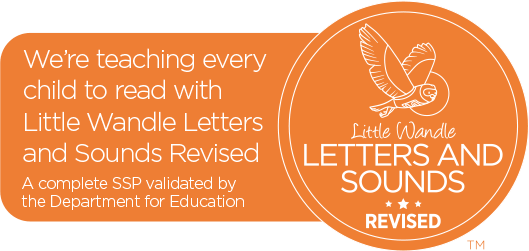 Research has demonstrated that children's attitude towards reading is one of the strongest predictors of their later academic and life success (OECD, 2002).
Little Wandle Letters and Sounds Revised is a complete early reading programme. We recognise that high-quality phonics provision is essential for developing life-long readers and have implemented Foundations for phonics to prepare our Nursery children for phonics teaching in Reception. We also recognise the importance of children in Nursery developing a love of reading.
In Nursery, one of the most important aspects we focus on is developing an awareness of sound. There are lots of opportunities this can happen! We aim to provide activities that focus on listening and attention in order to support children's development in Nursery.
We will be continuing to focus on activities that support children to hear the phonemes in words. We will do this by playing games during our carpet sessions and throughout the day to support children on their oral blending and progression of sounds.
Each day, we will be playing a different game with the children to ensure they consolidate the new sound for the week.
Monday: Introduce the sound for the week and show them flash card. Have different objects that begin with the initial sound. Game: What's in the box?
Tuesday: Introduce different animals that begin with the initial sound. Game: 'Bertha the bus.'
Wednesday: Using the children's names, make up alliterative phrases for them to engage and enjoy. Game: Play with sounds.
Thursday: Review and recap sound for the week. Can they remember the animals and objects that being with the initial sound. Game: What's in the box?'
Friday: Pull the children's name out of a bag, show them the card. Make up fun sentences with the children's name that all begin with the same sound. Game: Name play.